About Freeman
Manufacturing & Supply Co.
---

Who We Are & What We Do
Celebrating over 100 years of excellence, Freeman is the one-stop materials supplier to industries such as aerospace, automotive, foundry, prototyping, steel rule die, thermoforming, and more, that design, develop, and manufacture products to precise sizes and shapes. Our materials begin where the initial designs and software end and are used in nearly every stage until the very high production (usually metal) tooling investment is ready to be made.
What We Offer
With a team of highly-skilled and knowledgeable technical specialists and sales representatives, helpful customer service department, a comprehensive website and catalog, and 14 North American warehouses, Freeman is your one-stop-shop for everything you need for your specific project.
Today, we are proud to offer our new and improved members-only platform, Freeman 360°, where you can...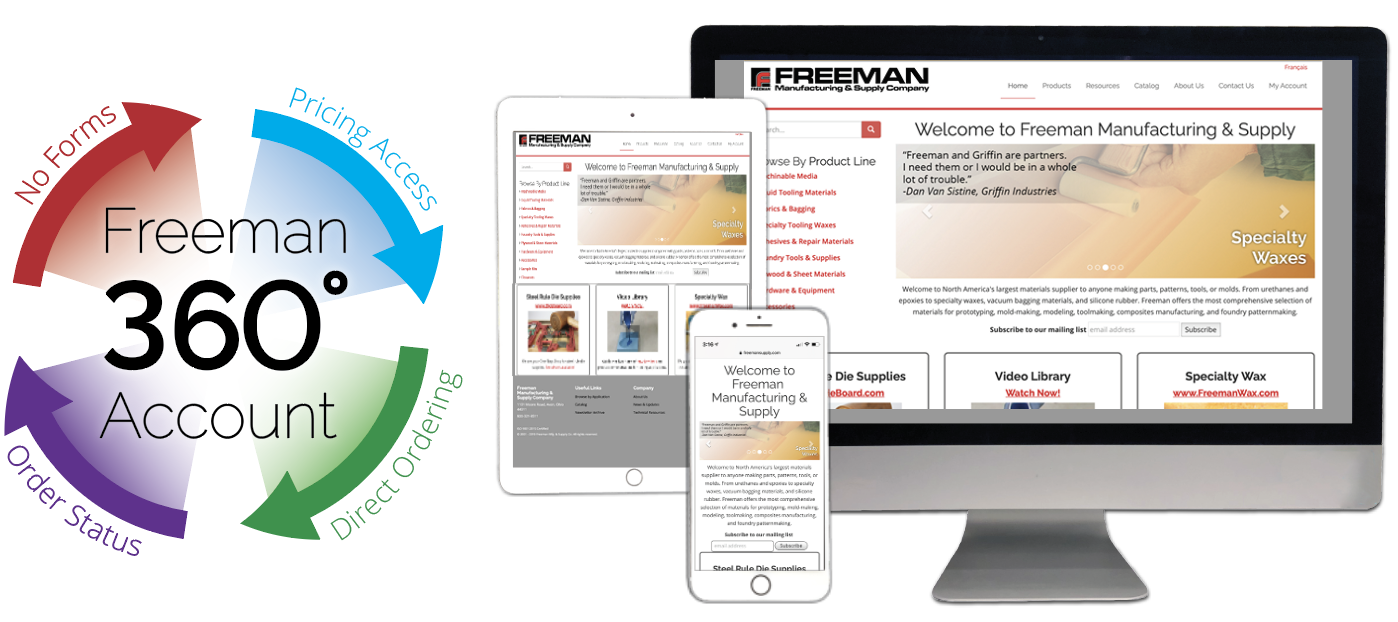 View List Pricing
View Contract Pricing (if applicable)
Order Directly (no quotes)
View Order Status
Access Web Discounts
Createa a "Favorites" List
Track Shipping
View Select Inventory
View "Industry Pulse" Data

For more information on how you can get access to all these great features and more, click here!
Already a Freeman 360° member? Log in now!
---
Our History
Humble Beginnings

In 1902, Bill Freeman resold excess shop materials to other foundry pattern shops in the Toledo, OH area. This side business was named Freeman Pattern Supply and moved to Toledo as a regional supplier.
Mid-Century Expansion

In the 1960s, Freeman acquired several similar suppliers around the country and became the nation's largest tooling material supplier to pattern shops. This enabled Freeman to serve the rapidly growing automotive and aerospace industries. Freeman then expanded into manufacturing with the acquisition of a specialty wax manufacturer in Cleveland, OH, officially becoming Freeman Manufacturing and Supply Company.
Building Partnerships & a New Headquarters
In the 1980s, the tooling plastics manufacturing division developed and grew while an enduring partnership began with CIBA, later Huntsman Advanced Materials.
In 1998, Freeman's new facility in Avon, OH (near Cleveland) became its headquarters to this day. Since then, it has expanded to 150,000 sq. ft. in order to accommodate the growing staff and reliable stocking of products.

Geographical Growth & Major Acquisitions
In the last 20 years, Freeman has expanded to 150,000 sq. ft. in order to accommodate the growing staff and reliable stocking of products and has added several warehouses and sales territories. Numerous companies have been acquired to expand the industries we serve and and product lines we carry.
Epoxical: tooling board technologies and plastics manufacturing
MF Composities: tooling and composite materials
Kindt-Collins Co: pattern supply and specialty wax
DuMatt: jewelry wax manufacturing
PSC Global: die boards and steel rule die materials
Marco Die Supplies: speciality plywood and steel rule die/converting materials
Freeman Today
We now service our North American customers with twelve U.S. and two Canadian locations, as well as dozens of authorized distributors of our products both domestically and worldwide. While the traditional pattern shop supply business remains deeply at our core, Freeman is now also a major supplier to a much wider range of customers, including those that do automotive and aircraft tooling, modelmaking, rapid prototyping, jewelry manufacturing, vacuum forming, steel rule diemaking, high performance composites construction, injection molding, metal stamping, bronze art casting, and much more.
---
Our Locations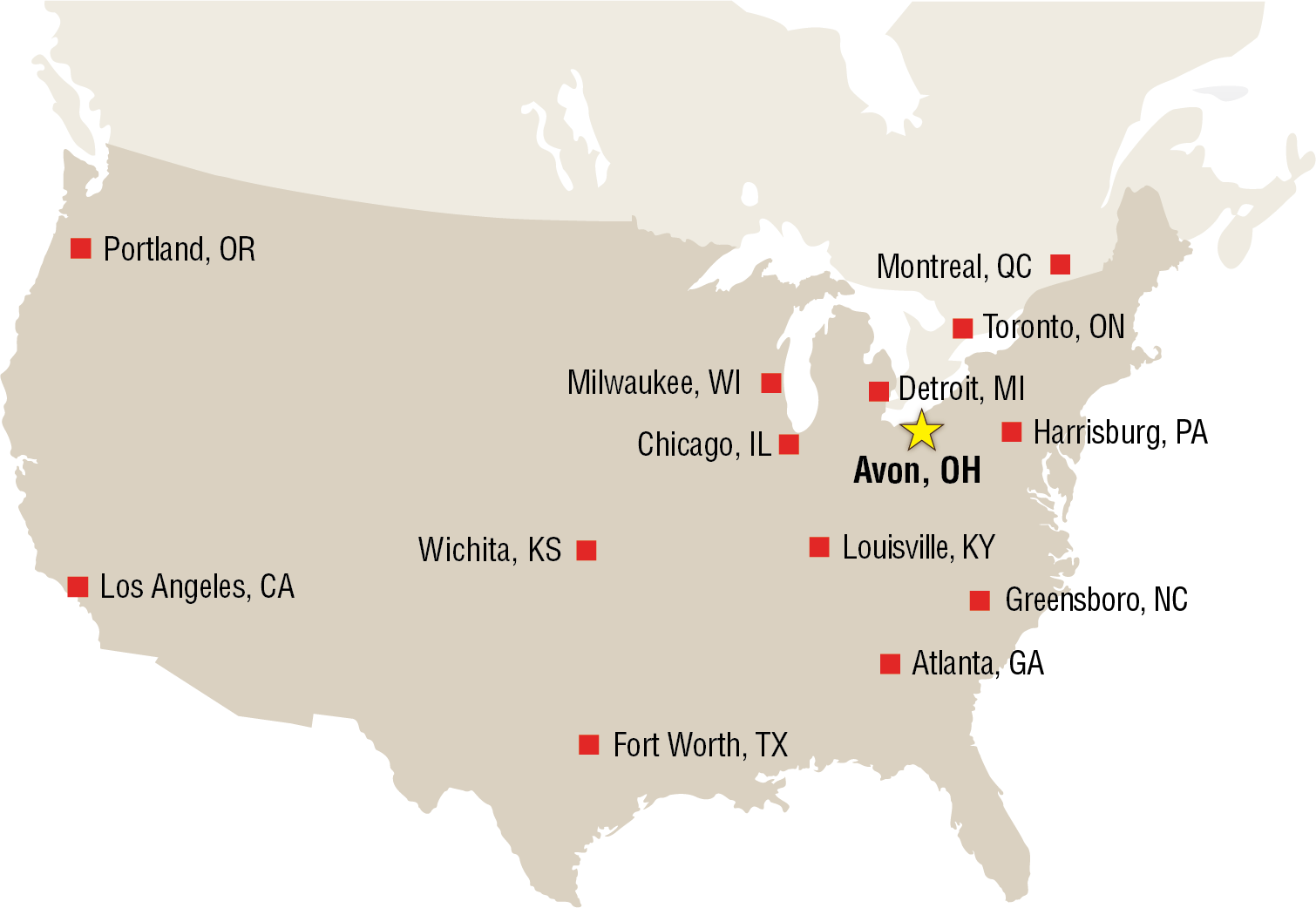 Branch Locations and Public Warehouses
Freeman has strategically placed satellite locations across North America with customer service representatives ready to help. Thousands of products are stocked at these locations as well as public warehouses to reduce your shipping costs.
Strategic & Effective Stocking
Freeman's inventory staff constantly monitors sales and stocking data across the country to properly provide the right amount of products at each location.
Worldwide Shipping
Freeman ships orders all across the globe and has various international distributors available to supply customers with top-quality products.
1101 Moore Rd.
Avon, OH 44011
Tel:
800-321-8511
Tel:
440-934-1902
Fax:
440-934-7200
5525 S. Soto St.
Vernon, CA 90058
Tel:
800-325-2100
Fax:
440-934-7200
5060 Royal Atlanta Dr. #6
Tucker, GA 30084
Tel:
770-493-4131
Fax:
440-934-7200
727 N. Larch Ave.
Elmurst, IL 60126
Tel:
630-521-9855
Fax:
440-934-7200
5755 S. Hoover Rd Bldg. #5
Wichita, KS 67215
Tel:
800-792-1047
Fax:
817-568-0908
917 Landis Ln.
Mt. Washington, KY 40047
Tel:
502-955-5535
Fax:
440-934-7200
27655 Groesbeck Hwy.
Roseville, MI 48066
Tel:
800-345-9259
Tel:
586-774-1210
Fax:
586-774-1019
101 Bailey St.
Mocksville, NC 27028
Tel:
800-321-8511
Fax:
440-934-7200
3600B Laird Rd. Unit 8
Mississauga, ON L5L 5Y7
Tel:
800-345-9259
Fax:
586-774-1019
15745 N. Lombard St.
Portland, OR 97203
Tel:
800-558-0866
Fax:
262-789-5407
203 Enterprise Rd.
Lititz, PA 17543
Tel:
800-631-4230
Tel:
717-653-5300
Fax:
717-653-7372
3475 Boul. Pitfield
St. Laurent, Quebec H4S 1H3
Tel:
800-263-7699
Tel:
514-335-3530
Fax:
514-335-3225
3152 S.E. Loop 820
Fort Worth, TX 76140
Tel:
800-792-1047
Tel:
817-551-7301
Fax:
817-568-0908
4921 S. 2nd St.
Milwaukee, WI 53207
Tel:
800-558-0866
Tel:
262-789-9800
Fax:
262-789-5407