Die Boards & Plywood
---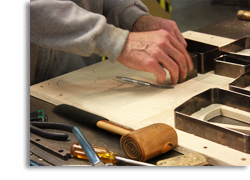 In addition to supplying the highest quality pattern grade lumbers for over 100 years, Freeman offers dieboards, a variety of high-grade, economical plywoods, and specialty sheet materials that are used in a wide range of applications.
---
A variety of flat dieboards suitable to multiple applications.


A variety of rotary dieboards in varying diameters


Jumbo sized plywoods from 1" to 2" thick made from Pine or Maple-faced pine.


Eurobirch & Euroform Plywood, Chili-Form Plywood, & Russian Birch Plywood


Birch, Fir, HDO Fir, MDO Fir and Pine plywoods


Masonite Sheets, Armorboard, Particle Board, Melaboard


You may also be interested in