Die Making Hardware & Equipment
---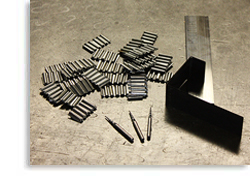 Since entering the Die Making industry in May 2015, Freeman is committed to being your one-stop-shop for all die making supplies. We offer a selection of dieboard equipment for any die maker or die cutter. If you're looking for adhesives, check out our full
Die Making Adhesives
line.
| | |
| --- | --- |
| | For everything "die making", check out our One-Stop Shop and see all we have to offer! |
---
Steel rules for use with flat dieboards and rotary dieboards


Kerf Bits, Cutters, and Tools for use with Steel Rule Dies


Open Cell, closed cell, and other Ejection Rubber for die ejection applications


Manufactured with work hardened medium-hard steel, all made in the USA.


Bits to be used with Freeman MatchPlates


Rawhide and Elastomer Mallets used for die making


1mm Medium-Hard Cutting Plate, 35 RC


Tighest thickness tolerance in the industry, available in a variety of thicknesses


Specialty polyester film.


You may also be interested in