PL266 Thermo-Stable Sheet Wax 8" x 12" (Plain back) - Inches
---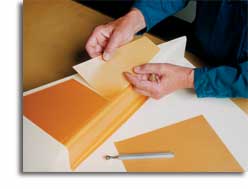 This medium brown wax was developed primarily for use with tooling plastics to prevent wax deformation under exothermic heat conditions. PL266 has a plain, non-adhesive back. Additional thicknesses available upon request. Please call customer service to inquire.
This material is sold by the full box quantity.
The physical properties that contribute to this wax's popularity are:
Uniform thickness accuracy of ±.002 throughout
Uniform length and width accuracy of ±.015
Firm surface for durability and depression resistance
Maximum flexibility for forming quickly and accurately to any contoured surface (more flexible then 165 Regular Sheet Wax)
Natural draping characteristics at room temperature and absence of memory (spring-back) eliminate the need to warm or temper wax
Melting point of 282°F.
Our Customers Also Buy...