Freeman Catalog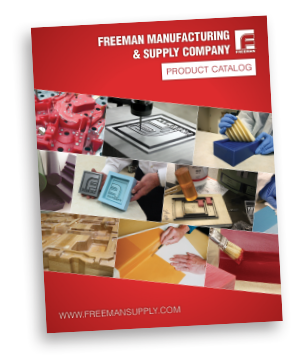 Submit your request for the latest edition of our Catalog now!
Our latest issue will feature more than 140 full-color pages of product information, ordering information, and technical tips.
Request your copy today! Be the first to receive the Digital and Print versions – available soon!
View our previous catalog within seconds by clicking on the links below! All of these files require Acrobat Reader to be installed on your computer.
Page Numbers


- RenShape Modeling Boards
- RenShape Tooling Boards
- Perfect Plank Specialty Lumber
- Rough Sawn Pattern Lumber
- Ren Seamless Modeling Paste
- Richlite
- MDF
...and more

- Repro Fast-Cast Urethanes
- Polyurethane Elastomers
- Epoxy Resins
- Polyester Resins & Gelcoats


- Bluestar Silicone Rubber
- Specialty Tooling Pastes & Resins
- USG Plasters & Gypsum Cements
...and more

- Fiberglass Cloth
- Other Fiberglass Reinforcements
- Carbon & Kevlar Cloths
- Tooling Plastics Fillers


- Dyes and Pigments
- Core Materials
- Mia Vacuum Bagging Supplies
...and more

- Machinable Wax
- Sheet Wax
- Soluble Waxes
- Freeman Blind Gauging Wax
- Freeman Half Round Wax
- Bulk & Misc Waxes

- TUF Repair Materials
- Polyurethane Repair Materials
- Epoxy & Polyester Repair Materials
- Epoxy, Metharylate, Polyurethane, & Cyanoacrylate Adhesives
- Dispensing Guns & Nozzles
- Ren Tooling Board Adhesives
- Hot Melt Foundry Adhesive
- Wood Glue & Dispensers
...and more

- Pattern Plates
- Mold Alignment Hardware
- Alignment Dowels
- Core Box Air Release Vents
- Core Box Seals & Gaskets
- Freeman Core Vent Wax
- Leather Fillets & Accessories
...and more

- Freeman Pattern Plywoods
- Specialty Plywoods
- Standard Plywoods
.- Other Sheet Materials

- Freeman Pattern Letters
- Tapes & Embossers
- Fasteners
- Dispensing & Mixing Equipment
- Brushes
- Abrasives
- Assorted Cutters & Bits
...and more

- Pattern Coatings
- Mold Releases
- Gloves and Protective Wear
- Mixing Cups and Paddles

- Cleanup Supplies
- Clay Modeling Products
- Brushes, Wedges, Rollers
...and more

- Indices
- Glossary
- Preparation of Patterns/Models
- Reference